When I sat down with Scott Rogasch and Justin Westhoff of Barossa Born 'Forage Supply Co.' on a piping hot morning at Stirling's Organic Market Cafe – I thought I was in for a fairly straightforward conversation about growing some veggies and cooking them up in a van, as a sustainable alternative to the food choices we currently have available in South Australia.
Instead, I was blown away by a couple of lads from Tanunda with big ideas and even bigger hearts.
Humble, innovative and truly charitable – the boys explained how the Forage Supply Co. is promoting sustainable food practices in small but meaningful ways that are making massive changes to people's lives. What they've accomplished in just 12 months is staggering. Their business is not based on illusions of grandeur, it's not unrealistic and it doesn't place expectations on people. It's all about encouraging small changes, educating Australians about the benefits of plant-based food and helping the people in our community who need it most – right now.
If you want an uplifting South Australian hero story to get you in the giving mood for Christmas – then read on, because this is it!
Scott and Justin are long-time mates with the breadcrumbs of their business starting in Scott's parent's vineyard in Tanunda. The guys were interested in making sustainable, organic wine – that was also awesome to drink. They began the process of making wine under the label of the Forage Supply Co. and came to the realisation that yeah, it is possible to make a really impressive and high-quality wine product, without the use of environmentally damaging practices and chemical additives.
From here the boys started thinking of a business concept that could take this idea of organic production and sustainability further, and that they could use to educate young South Australians, whilst also helping the less fortunate – specifically the Hutt Street Homeless Centre – where they've been volunteering for 10 years.
'We wanted to create a business that had the smallest impact on the environment with the greatest impact on the community.'
Justin spotted the eye-catching Forage Supply Co van on the side of the road whilst driving from Stirling to Tanunda and had a brainwave. Why not start a food van? They guys decided they could create plant-based food from their own foraged produce, teach kids how to lead a healthier and more sustainable lifestyle, and provide healthy meals to the homeless, all whilst operating on the move.
'The homeless deserve the same balanced diet that we have', says Justin 'but the shelters have to give what they're given as they rely on donations, so we thought if we could start a business where we can begin to slowly introduce a healthier, balanced diet, hopefully, it will give them more motivation to get back into the workforce.'
It might sound like a utopian concept, but this business model has some crucial differences to many other environmental and health movements you might have heard of, or even tried. It's created around a concept (or an ethos if you will), that refuses to stigmatize anyone.
The FSC is a movement for everyone, whether you're a meat eater, a vegan, a homeless South Australian or a busy working individual with no time to think about what you're eating. There are no judgements or labels when we all come together and try and make small changes to our lifestyles. In fact, the Forage Supply Co prefers to distance itself from words like 'vegan' to try and close the gap between lifestyle extremes.
'It's not what we're about – we believe in stories, not stereotypes', explains Scott.
'If you enjoy something, you can just reduce it rather than cutting it out. We're not about making people eat a certain way for the rest of their life, we're about helping people adapt a little bit to reduce their carbon footprint.
'Eating a healthy, balanced lifestyle, you don't have to be labelled as anything! And it's the same with the homeless in our community. You don't have to stereotype them as this person laying on the street and label them based on where you think their money is going to go. A lot of them haven't been too different to me and you, they've just made a few bad decisions and might have gone down the wrong path for a while but don't have any friends or family around them.
It's a bit of a snowball effect when they go down that hill but a lot of these guys do want to work their way back up – and we just wanted to be that stepping stone for them.'
When the Forage Supply Co was given the opportunity to be part of the Fringe Festival and Royal Croquet Club, they decided to pay it forward in a big way, giving job opportunities to the homeless and at the same time, teaching the less fortunate valuable skills that would make them more employable and give them the confidence to seek employment and even housing. As a result of their efforts, there are now working men and women living in their own homes rather than the shelter.
Scott tells me 'ideally we want to give them as much work as possible and if not, hopefully, the roll-on effect is that we get them some experience and something to put on their resume and perhaps even more importantly, some self-confidence.'
For us, that was a pretty big eye-opener – to see that even the smallest thing, one little aspect of their lives had tipped them over the edge – but that if we could give them a bit of renewed stability in their lives with a job, we could see how much that would change their lives' – even as Justin speaks these words, I can see how important this aspect of the Forage Supply Co is to both him and Scott. It's really not about making money to these guys, it's about making a difference.
When starting this movement, the lads had the foresight to introduce control and measure points for their meals.
'Each time someone eats with us, you can see that impact' says Scott, 'every time you eat a plant-based meal instead of a typical American hamburger, you save about 527L of water – just going on that, we've saved just over 6 million litres of what since we began.'
You can keep up to date with this and other incredible statistics on the Forage Supply Co Instagram and see exactly what impact the movement is having, as it happens.
The Forage Supply Co school-based community garden's project is another way you can see the impact the FSC is making. Scott and Justin are very involved in helping local schools educate kids about healthy, sustainable and most importantly – incredibly tasty, organic food.
'We launched the Forage Supply Co school-based community gardens program where we design school-based gardens for schools that want to be involved, and we've got Dan French from French Enviro who comes in and pretty well sets it out for us, has a look at what can be grown and how to grow it.'
Each project starts with some basic garden beds created in the participating school. The guys teach students about soil, what to plant, crop rotation, what's in season and bring in their amazing chef who shows them how to make delicious and interesting meals and products like beetroot slices from the produce they've grown.
'The meals get donated back to the homeless shelter and to the school canteens. The kids get their 5 veg and 2 fruit but are also helping us support people who are less fortunate' says Scott.
'It's about giving them something that's just really good – healthy food doesn't have to be bland'. Take the Jackfruit Burger as a case in point –  it's proving to be a hit because it has the texture of pulled pork, tastes awesome, and it fills you up!
I was interested to hear how hard it was to get ordinary people, to care about making a change to their diet and to believe that their individual effort could possibly make a difference in the world.
'I think we've gone in and rather than explaining what we're about, we've got people interested purely because we provide good food explains Justin. 'We just try and make it the best experience possible – we've had people come into the food truck who didn't even realise what they're eating is totally plant-based food.'
The guys have the help of Master Chef series 6 contestant and professional chef Tracy Collins cooking, she's now part of the Harvest Kitchen and has been a massive help to the guys, preparing meals and sharing ideas. They also have the help of Peter Little and Alex Potarzycki in the Forage kitchen – pumping out healthy, interesting and downright tasty grub. And if you're interested in having the team cater your event or introduce their project to your school – just get in contact and they'll be more than happy to oblige.
Not only do the boys get around the state in their trendy food van, they've got a  pop-up stall at Plant 4 Bowden, which also employs young people they've taken on through a youth homelessness charity called Ladder that they've recently become affiliated with. Working with Ladder the FSC is giving job opportunities to young people who wouldn't otherwise have that chance. They also educate them about food and healthy eating – steering them away from fast food and bad habits before it's too late.
You can find the Forage Supply Co. at Plant 4 Bowden every Wednesday, from 4pm-9pm, Friday, 5pm-9pm and Saturday, 9am-3pm.
Helping young homeless people find employment, practice life skills, learn about health and build self-esteem is one of the most wonderful outcomes of this business to date, and it's truly inspiring to see a fresh, young South Australian company leading the way.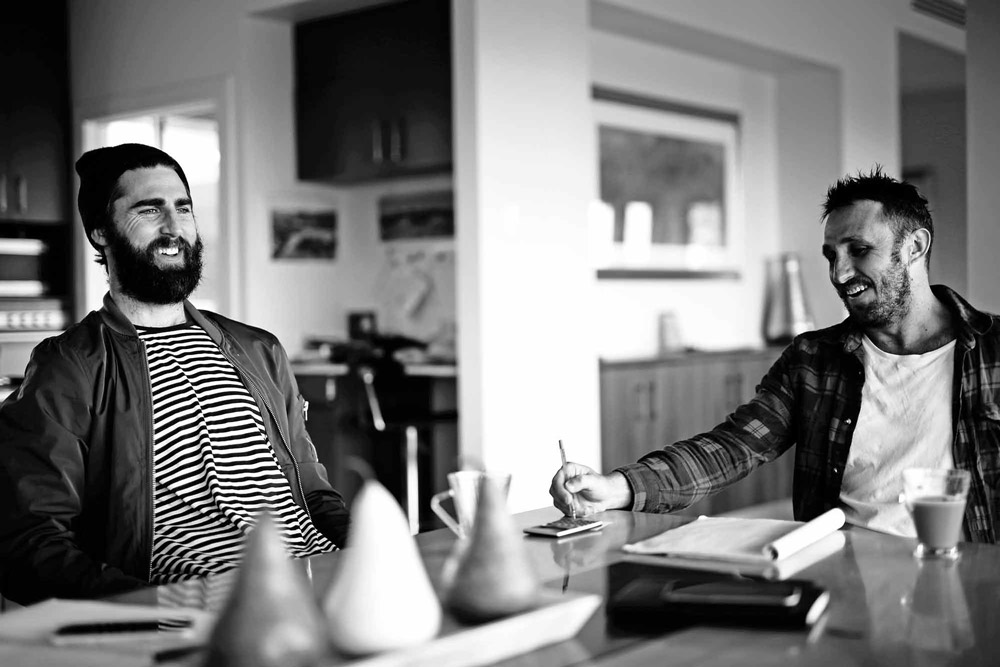 What's next?
Scott developed a real interest and passion for sustainable living after travelling and diving in Honduras and seeing the damage caused to the reef, just as we're seeing now in Australia. He also learned a lot about plant-based food from the Asian and European countries he travelled.
This is when he decided he wanted to be part of a change and together with Justin, they're making a big one, and it doesn't stop with sustainable food.
The boys tell me some very exciting, hot off the press news – they have just been approved for an entrepreneurial grant from Beyond Bank to take their sustainability project further and start manufacturing sustainable, ethical and organic clothing under the brand of Forage Supply Co.
The boys will be getting started on this early in the new year and have exciting plans for the business which will continue to thrive, educate, employ the less fortunate who just need someone to give them a chance – and make huge changes to our environment, health and perceptions of what can actually be achieved when a few good men and women – do something!
Heading into Christmas and the new year, there's never been a better reason to make a change and join the movement. If you're short of time, aren't sure how to create wholesome food or grow a veggie garden, or you just want to start being more sustainable in your daily life – the Forage Supply Co can help you make that first step, and together we can get that pendulum swinging.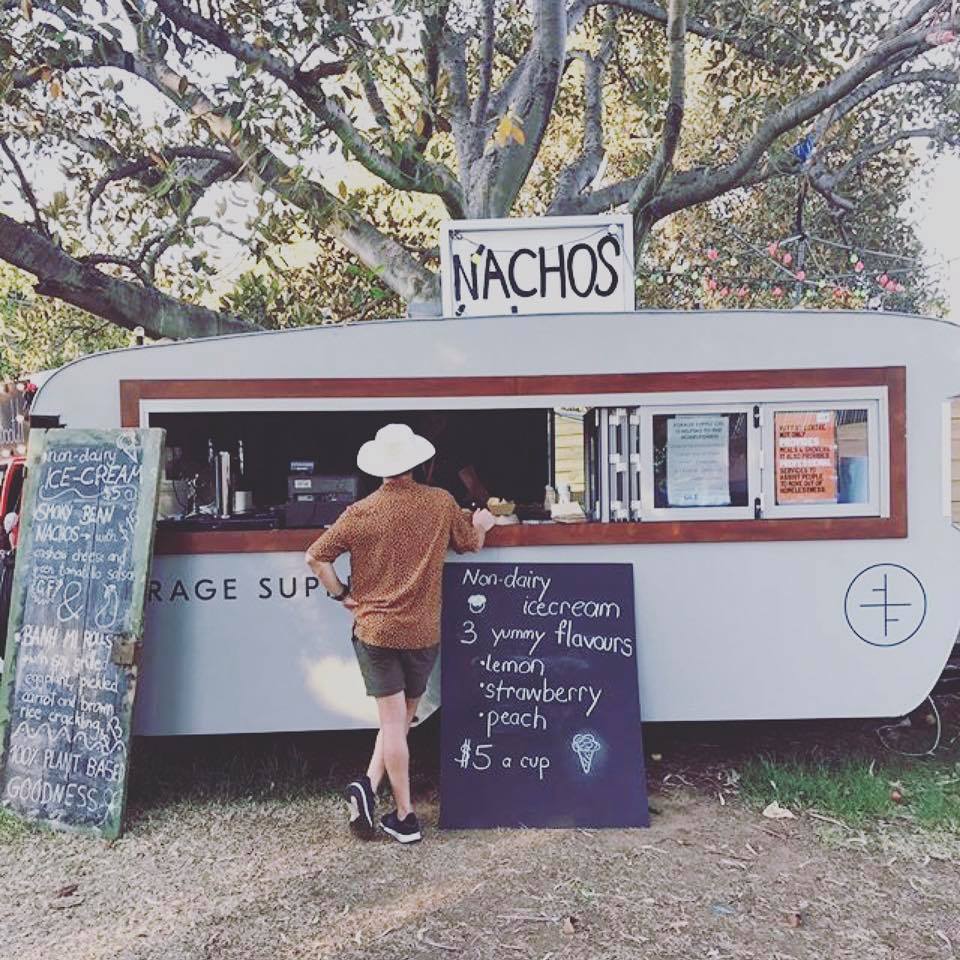 Follow the guys on Instagram @foragesupplyco and Facebook to find out where they are and what they're up to, or email hello@foragesupply.co to book them for your next event.
Check out the Forage Supply Co. website for wine sales and other details.
Often appearing at music and wine festivals, keep an eye out for the Forage Supply Co, van and try some of the incredible plant-based goodies for yourself. Yum!
Words by Elise Kuchel.