Friday August 4 is International Beer Day 2017 and we thought we'd celebrate the occasion by introducing some of the top breweries in and around Adelaide, where you can visit and pay homage to the hoppy nectar.
Adelaide
Big Shed Brewing Co was started in a man-shed in the Barossa as kind of an experiment to see what could happen when two beer lovers tried their hand at brewing. Over a few years of founders, Craig and Jason spending lots of time in the shed and introducing new flavours and fruits into the brewing process, the true potential of a brewery came to fruition.
A move to Adelaide meant the lads could finally start realising their dream of designing their own brewery and creating quality beer for locals and tourists to enjoy. Now with a successful run of core beers flowing regularly from the taps and an assortment of delicious finger licking food to enjoy with each beer, this humble brewery is gaining popularity.
Try the original crowd pleasing FrankenBrown or F Yeah Pale Ale or perhaps the Californicator IPA for a beer that satisfies every crevice of the palate.
Brandwood St
Royal Park, Adelaide
Pirate Life is all about putting the can back in the hand. Founders Jack and Red believe that beer in a can makes for higher quality and longer lasting enjoyment, more environmentally sustainable packaging and of course – tin is accepted in more locations than glass – think festivals, bbq's and beaches. Cans are the mini-keg everyone loves and Pirate Life Brewing fill theirs with incredible tasting beer too. Just ask the guys and sample some of their intelligently crafted tinnies.
Distributed all over the country, check out their map to see where you can grab yours.
Adelaide Hills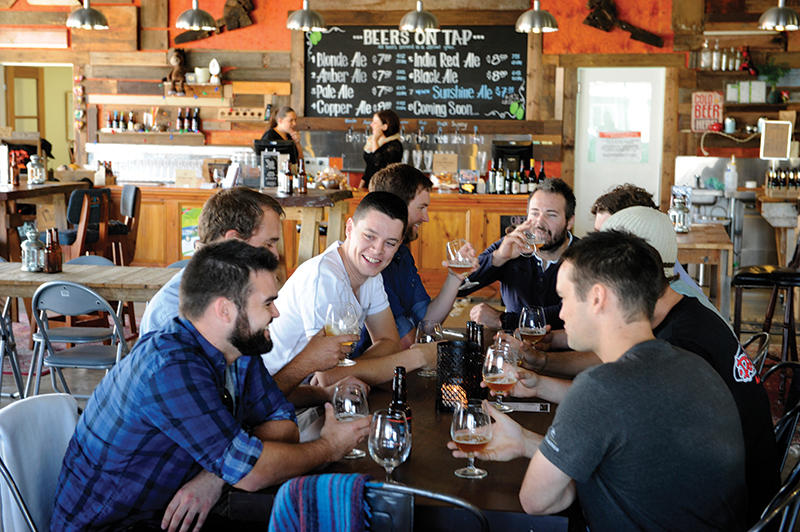 A convenient distance from the Adelaide CBD, the Prancing Pony Brewery produces a range of refreshing beers including Sunshine Ale, Hopwork Orange, Black Ale, Pale Ale, Amber Ale, India Pale Ale.
And with a swag of international awards, it's a popular choice for local beer lovers. All you need to do is choose which to taste first – we know you'll want to sample them all. 
Don't forget, eating is not always cheating – if you're celebrating international beer day, be responsible and let The Brewshed serve you up the perfect dish 'from the beer up' to pair with your favourite cold one.
42 Mt Barker Road
Tottness (between Hahndorf and Mt Barker)
10 craft beers and a cider are available to taste and purchase from Gulf Brewery in the beautiful settlement of Hahndorf. The brewers have made a real effort to create something special for every palate and seemingly, every personality.
Quirky names like the Hump Back Pale Ale, Cabin Boy Half Wit, Pilots Light, Kitten 9 Tails and Fish Tale combine with fun labelling to reflect the lively varieties. Try the Sou' Wester made with real Belgian chocolate for the stout lover.
81 Main Street
Hahndorf
Barossa
If you're creating something in the Barossa Valley and you want to succeed, it better be impressive, damn impressive. The founders of Barossa Valley Brewing need not worry because all their hard work has ensured the resulting varieties are just that – impressive.
With an emphasis on comfort and fun, you'll enjoy a range of food made from local ingredients and the extensive beer garden makes the perfect spot to relax with friends.
Founder and head brewer Denham D'Silva has just introduced a canning facility so you can even drink your favourite nectar right from the can and experience the sound, the froth and the excitement.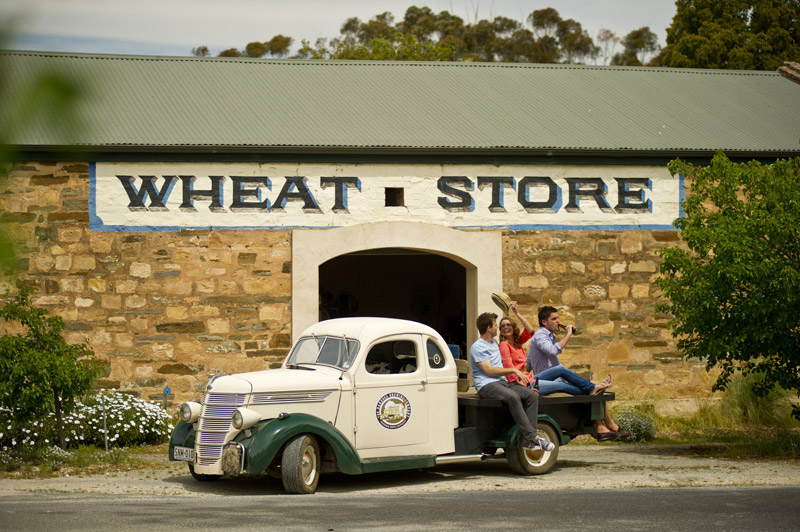 Steeped in tradition, Greenock Brewers located in the historic wheat store in Greenock is proud of its ancient brewing methods and innovative approach to creating distinctive, unfiltered varieties of German style beer such as:
The Bunuwanda Blonde – traditional blonde (none of that low carb shenanigans)
Victorville Ale – with citrus notes
Dark Ale – a full-bodied English porter
The Wheat Store, Mill Street
Greenock
Fleurieu Peninsula and Langhorne Creek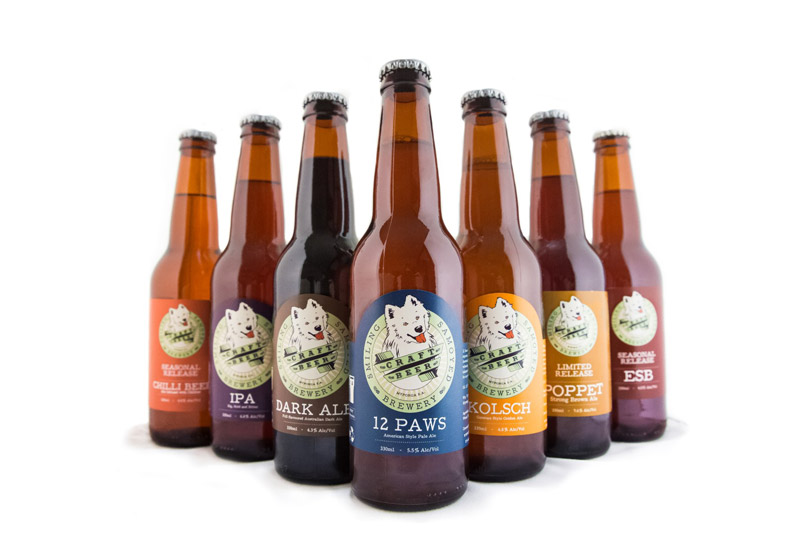 The Smiling Samoyed in Myponga has a distinctive label featuring the brewery's namesakes – Mia and Cooper – the family's beloved dogs.
Founders Simon and Kate are proud of their 5 unique beer varieties, all made and packaged on site in Myponga.
The Poppet is a strong, hoppy brown ale – it's also a limited release so try it while you can
Kolsch is an easy drinking, German style golden ale
12 Paws pale ale
Dark Ale – full flavoured Aussie style dark ale
IPA – American style India Pale Ale is big, bold and bitter
For something a little a different at a brewery with charming character, you'll be grinning from ear to ear, just like Mia and Cooper.
Hansen St
Myponga
This is a family owned and operated brewery set in beautiful McLaren Vale. Jeff and Mary are passionate about beer and diligent about the technique that helps create distinct flavours. They have worked tirelessly to establish their brewery with two young sons.
In just two short years they've managed to produce a range of small batch beers and a spectacular all year range of pilsner, stout, ales and wheat beers.
You can purchase directly from their site, but we recommend booking a visit to say hello and truly appreciate Jeff and Mary's traditional handy-work.
Sand Road
McLaren Vale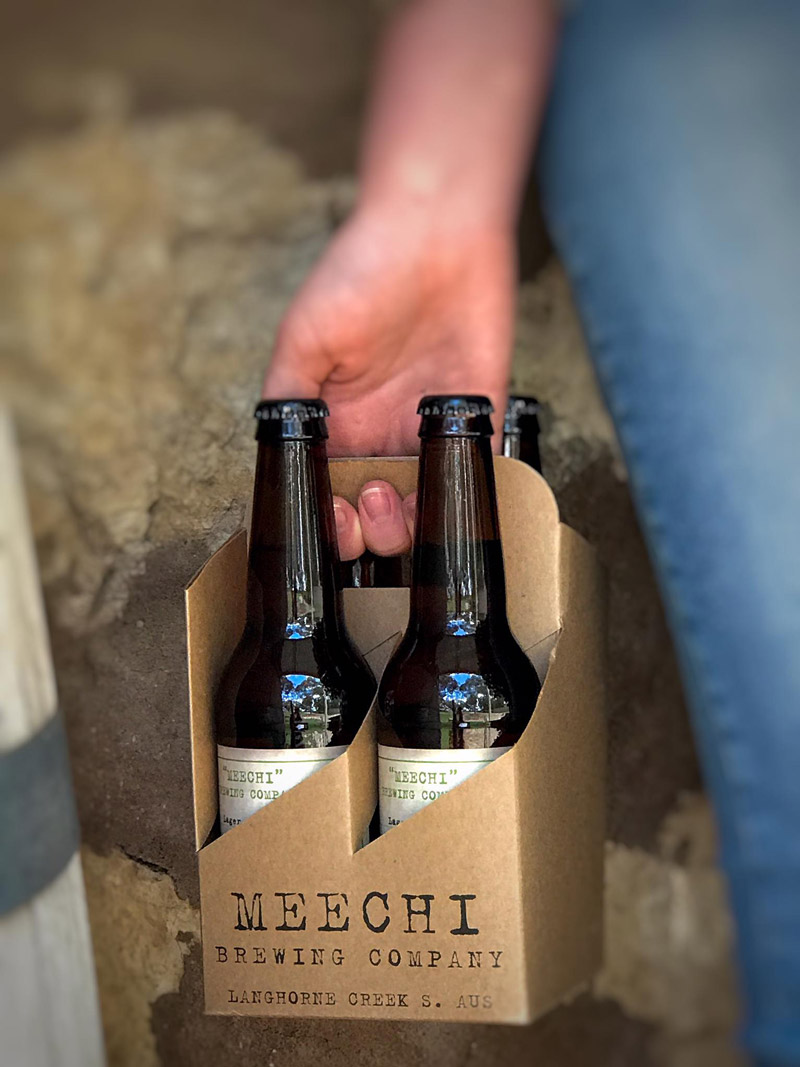 Photo courtesy of Meechi Brewing Company
Meechi Brewing Company is made up of two winemaking mates and their wives. Meechi handcraft small batch brews for that something special. Refreshing, complex and downright tasty, Meechi beers are brewed in the man cave – so you know they mean business.
Paying homage to the life-force of Langhorne Creek, Meechi is the Aboriginal name for Bremer River – a fitting tribute and a beer that doesn't disappoint.
Murray Road
Langhorne Creek
Clare Valley
The easily recognised Pikes Beer brand is becoming a very popular drop in South Australia, with many pubs, restaurants and bottle shops now stocking an assortment of varieties.
Brad and Alistair are responsible for the resounding success of the four beers on offer:
Pilsner Lager
Sparking Ale
Stout
Tonic Ale
Pale Ale
Check their website for event listings and to find out where to purchase these incredibly drinkable bottles of beer.
Polish Hill River Road
Sevenhill, Clare Valley
CVBC is all about great mates and great beer – simple. And with 4 beers on offer, there's really no excuse to try them all right?
Pale Ale
Summer Ale
Red Ale
Extra Stout
This brewery creates beer in the true spirit in which it should be enjoyed – the process is about producing beer to be enjoyed amongst mates. Kicking back on the river or beach with a Summer Ale, or watching the footy with a Pale Ale. Every occasion is a good occasion for sharing a brew with friends, and we say 'cheers' to that.
22 Jeanneret Road
Sevenhill
Murray River, Riverlands and Coorong
Located on the banks of the River Murray in an old shearing shed, Wilkadene is steeped in history but has reinvigorated the buildings and transformed the area into an environmentally conscious, quality brewery.
Wilkadene produces a decent range of delicious and satisfying beers such as their interpretation of a German Kolsch ale – the Summer Ale as well as Judas the Dark Ale and the Firehouse Stout – where coffee and beer meet in mouth-watering fashion.
There's plenty of varieties and batches to sample, so if you're heading upstream from Renmark – 'hop' off and enjoy the fruits of these lovely brewer's labour.
Wilkinson Road
Murtho
The Steam Exchange Brewery is a popular spot to spend a few hours whilst in Goolwa. Located on the Goolwa Wharf, the brewery offers 4 styles of beer:
Steam Ale: traditional American style that blends three different types of malts
India Pale Ale – a popular IPA
Southerly Buster – British style winter warmer
Stout – rich and smooth with chocolate and roast characteristics
Open Wednesday to Sunday, The Steam Exchange Brewery is the place for beer lovers who want a relaxed atmosphere to enjoy their ale.
1 Cutting Road
Goolwa Wharf Precinct
We don't need an International Beer Day to remind us of the awesome beer being produced in our state, but it certainly doesn't hurt. Support these fine brewers and let us know where you visited and what beer you tried.